"EXPRESSIONS" Dance Company ("E" DC) has been in existence since June of 1992 offering dance instruction in ballet, modern, tap, jazz, African Movement & hip hop. Using dance as a tool, "E" DC aims to instill in its students an enduring appreciation for the arts while helping them develop discipline, character and self-esteem. Through a process that requires consistent attendance, proper dance attire, a commitment to learning and team work, the students are taught dance technique and interpretations.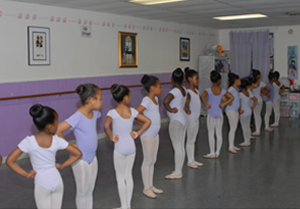 These techniques are complemented with live performance experiences enjoyed by community audiences of all ages. "E" DC provides quality instruction at affordable prices. It is our goal to enlighten students to the many benefits of dance. Most of all, "E" DC is a positive company with the purpose of giving our youth something constructive to do with their time and energy..


"E" DC's annual June performance will include all enrolled students. Each student will require a costume for each class subject and any additional/extra dances. All financial obligations must be met in order to participate in performances. Costume prices and additional information will be provided in your registration packet.

Overnight Dance & Etiquette Camp
"E" DC believes in empowering young girls by assisting in providing them with the tools necessary to be successful in life. Our overnight camp for young girl is an endeavor to help them develop socially, physically and emotionally. Campers are taught dance, etiquette, creative writing, drama and they have the opportunity to swim, hike, design crafts and much more. Most of all, it will be an opportunity to make new friends and create memories that will last a lifetime. We hope you will trust your most precious gifts with "E" DC for a week of friendship, fellowship & fun!