Creative Movement is an exploratory movement for boys and girls ages 2 ½ - 5. Utilizing the basic concepts of modern dance the child develops an increased level of physical fitness, discipline and self-control.
Ballet is the foundation for all dance forms. It helps develop proper body alignment, technique, discipline and grace and poise.
Modern Dance is an expressive and free-flowing form of dance using mostly the upper torso, such as tilting, twisting and bending. Modern dance affords students the opportunity to gain a greater appreciation of the body and its potential.
Tap provides a fun challenge for students. It helps develop rhythm and strength in legs, ankles and feet.
Jazz, offered to ages 7 to adult, includes isolations, stretches and footwork. The entire body receives a workout as students are introduced to funk, hip hop and theatrical jazz styles.
African Movement is an ethnic form of dance, which allows students to move freely to a percussion rhythm.

Hip Hop is a combination of martial arts and street dancing as well as funk and free style dance.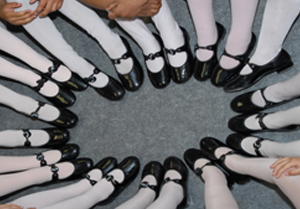 Proper dance attire is essential. All students are required to wear proper dance attire to all classes. Leotards and tights can be purchased or ordered from "E" DC. Students are required to wear split sole Bloch brand ballet slippers. Please be sure to label all belongings. "E" DC will not be responsible for lost items.
Creative Movement & Tap — Pink leotard, pink tights, pink ballet slippers, black tap shoes, tap ties
Kinder Ballet & Tap — Lavender leotard, pink tights, pink ballet slippers, black tap shoes, tap ties
*Beginners I & II Ballet & Tap — Light blue leotard, pink tights, pink ballet slippers, black tap shoes
*Elementary I & II Ballet & Tap — Red leotard, pink convertible tights, pink ballet slippers, black tap shoes
*Intermediate I Ballet & Tap — Royal blue leotard, pink convertible tights, pink ballet slippers, black tap shoes
*Intermediate II Ballet — Burgundy leotard, pink tights, pink ballet slippers
*Intermediate III & Advanced Ballet — Black leotard, pink convertible tights, pink ballet slippers
*Intermediate II & III Tap — Black leotard, suntan tights, black tap shoes
Modern Students — Black camisole or tank leotard, suntan convertible or footless tights
Jazz Students — Black leotard, suntan tights (Convertible for Inter II, III & Adv students), tan jazz shoes
African Movement — Any colored leotard, suntan convertible or footless tights (Adults may wear black yoga pants)
Boys — White T-Shirts, black dance/sweat pants, black tap shoes, black jazz shoes
Hip Hop — Any colored leotard, jazz or parachute pants, black dance sneakers. Regular sneakers will not be allowed
*Bloch Tap Shoes Required for Beginners I & Up Tap Students